Q360 ERP & PSA Software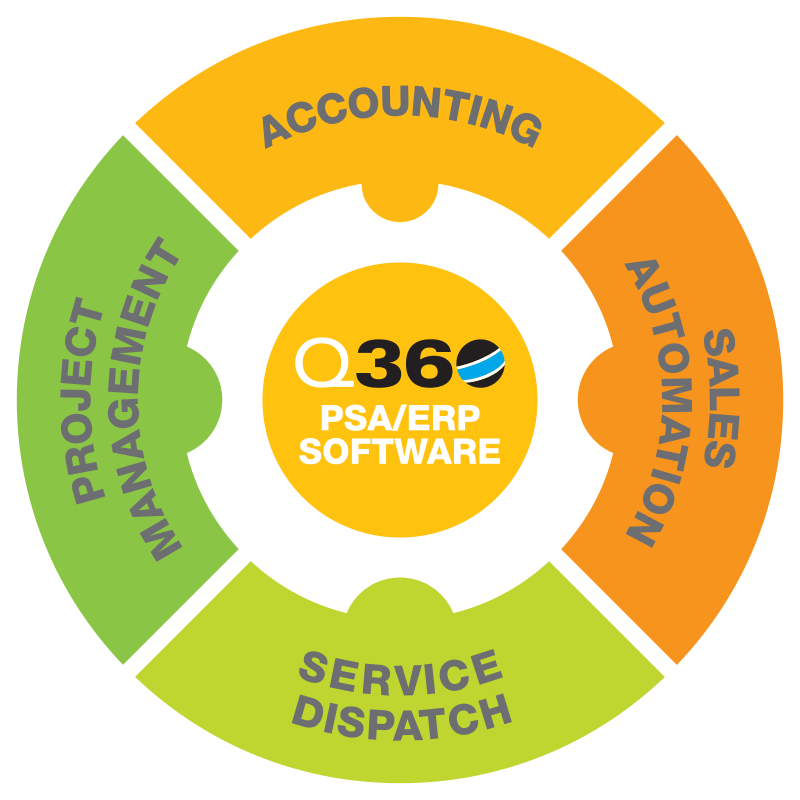 Q360 ERP & PSA Software Unified for an Industry Specific Solution
Enterprise Resource Planning (ERP) and Professional Services Automation (PSA) Software
Typically, these are separate software packages designed for different types of organizations. However, for Systems Integration companies, major elements of both are needed to run a business efficiently and profitability while giving everyone in the organization visibility into their contribution to the success of the company.
ERP software is used to plan and coordinate the delivery of goods and services to your clients across the organization in the most efficient manner possible. PSA software is designed to assist Systems Integrators with organizing and managing your people who deliver on projects and in your service department. This is accomplished by developing metrics to quantify and qualify basic business processes that can then be used to streamline and improve those processes to drive efficiency and profitability. The challenge with Systems Integration companies is that there are many more moving parts to their business, and the coordination of both ERP and PSA functions falls under practical application to the business.
Typically, technology integration companies have had to cobble together multiple applications to manage the unique aspects of the work that happens across their business. They have a standalone sales tool, a project management tool, time tracking software, an inventory system, some sort of accounting application and often more applications and spreadsheets to fill in the gaps. This model will work to a point, but as their business grows, these disconnected systems will begin to cause pain and processes will break down and cost the business money by having to assign more administrative staff to manage the systems and information.
Over the last 25 years, our Q360™ Software was designed to combine the functionality of all these applications in a single powerful solution, to centralize your business processes and information with seamless hand-offs from one department to the other. This workflow approach builds in accountability as every stop in the process. With Q360™ you will have one common database to access accurate, real-time information and your staff will have access to a single version of the truth of what's happening in their department and the overall business
Q360™ - A Purpose Built, Unified Software Package for Systems Integration Companies
Welcome to the best way to manage your business!
Q360™ is the only complete business software package that is purpose built for Technology Integrators that includes Full Accounting, Project Management, Job Costing, Service & Dispatch, Inventory, Sales, and Analytics and the many areas in between each. Designed for companies starting out at about 25 staff and scaling to thousands of users, Q360™ is the last software solution you will ever need to invest in to support your growth as an organization.
Q360™ is an innovative software platform designed by people that worked in the systems integration industry, to specifically manage the unique business processes within a growing technology Integration business.
The power of a single unified database, that is purpose-built directly to the needs of your industry is a game changer for how you manage your business, turning it from a reactive mode to one of planning with confidence.
A single system that is process driven gives you insight and control to manage your critical business operations across the organization. Everything within the system is real-time giving your staff visibility into "one version of the truth" of what is happening from a process and profitability standpoint.
Q360™ is a full accounting system that is Contruction focused, connecting financials to your operations in real time.
From its initial design, Q360™ is a Business Process Management (BPM) tool that also does accounting — Not an accounting tool that is evolving to try to manage your operations.
For controllers and accountants, nothing is more important than knowing that the financial data available is accurate, accessible, and audit-ready and delivered to the staff that need it quickly
If you use business management software that is not project based or has a foundation in project accounting, you are incurring more administrative costs that you need to. Information is harder to share, may be missing context and is likely out of date which is going to slow down employee decision-making and therefore has a negative impact on the business's bottom line.  Q360 changes your perspective from the rear-view mirror to the windshield, across the organization
Making sales is obviously a critical function to any business. Helping salespeople be more effective in qualifying or disqualifying, early, will help throughput and result in better aligned customers to the services you offer.
Now blending in all the sales activity to your operational planning can be a game changer. Especially if it is data driven and not based on subjective criteria. Q360(tm) provides a process driven approach to sales; sales plans per solution allows a salesperson to keep on track to quality early giving your forecasted close dates more accuracy. Using those close dates and project installation dates allows you to overlay late-stage sales opportunities onto your project backlog plan. A well-managed and planned backlog can easily be blown up with a large, surprise PO (Purchase Order) from a sale that came out of nowhere. Q360(tm) drives effectiveness into the sales team and creates a real-time channel of communication between sales and operational planning.
Q360™'s project management and detailed, data driven job costing is at the backbone of the system – providing a single, real-time, detailed view into the project labor work breakdown structure (WBS), labor and material planning with visibility into real-time profitability tracked on each job which automatically roles up to your project portfolio
Systems Integrators face unique challenges in their Project Management Offices. Often starting late in the game in new construction builds, tight timelines, expensive labor, intricate design estimates all lend themselves to attacking profit margins. The finite nature of a project makes it critical to have a real-time feedback loop on costs as they are incurred. This allows the project team to remain nimble in response to cost overruns or changes to schedule. Having the ability to capture and process change orders easily and efficiently also allows the PMO to keep a close eye on margins. With real-time WIP (Work in Progress) reporting and up to date costs to complete figures at the ready, you are shown which jobs are in trouble as it happens. With Q360™ your project's work break-down structures (WBS) can be template driven, automatically enforcing your best practices into each job, setting your team up for success. Q360™ gives project managers access to real-time data including the project's percentage of completion, budgets, projections, realized margins, cost to complete, and work in progress. You have a complete financial dashboard at your fingertips every day.
Through this visibility, the PMO gains an understanding of the overall performance of their project teams, which types of jobs and customer types make the most money and are able to make faster and more effective strategic business decisions on managing their portfolio of jobs.
The goal of your Operations group is to ensure that your business runs smoothly and profitability.
Relying on disconnected systems and spreadsheets to track your projects, service ticketsli technician scheduling and inventoryv is not efficient in today's business climate. A workflow-based process management tool, eliminates duplicate data entry and the resulting errors, provides real-time information, and allows you to course correct as issues come up. workflow.
Q360™ is a Professional Services Automation application that facilitates the work of moving information from one-to-many departments and back again as many times as required, adding value to information at each step, creating complete visibility to allow Operations to maintain the highest profitability and efficiency as possible.
Providing consistent superior service in today's market is expected. Doing it at all costs is not.
It is no longer enough to say you offer superior customer service; you must deliver more while keeping an eye on the cost. Workflow automation is a big step in accomplishing both. Automated call creation, automated communication with your clients and real-time tracking of costs allow you optimize your service delivery.
Q360(tm) allows you to set up automated workflows for managing service calls. Customers can self-service through email services or through a portal or third-party monitoring tools can open calls up in Q360 seamlessly. Successfully implemented a Managed Services' program; Q360(tm) will help you manage billing and revenue recognition and entitlement of service and ensure that your service obligations are never missed. Real-time job costing against calls allows you to see profitability for each call, your service contracts and at the overall customer level. Q360(tm) allows you to manage your
Optimizing Your Labor Utilization
Effective Labor Management is your single biggest leaver to drive profitability.
By optimizing the utilization of your staff, you can pull more revenue out of your backlog. Q360™ provides visibility into detailed labor requirements across jobs and compare that to your labor capacity, showing you over and underutilized labor by category going out up to two years. In the near-term; you see exactly what labor your projects need, what labor is available which allows you to schedule effectively to maximize your profitability potential. Overlay this in our OneDashboard(tm) lets you see your company breakeven and cashflows, all data driven by your staff's daily activity. Q360(tm) streamlines your business to drive profitability across the board
Our customers are innovative, high growth companies eager for a truly unified solution like Q360™. PSA – Professional Service Automation along with best practices delivers improvements in the customer experience, optimizes operations, strengthens sales and marketing, and drives more profit.
If you are an Integrator with need for professional services automation software and this sounds like your business, give us a call and we'll have a quick discussion on what's happening in your organization and how we've helped businesses like yours. We are the experts in this market, and we implement the tools and processes to help remove the obstacles in your growing construction company. Our team of experts will transition you from status quo to better visibility and improved business results. 
This entire section seems out of place; it's like a conclusion in the middle of the page.  Can you tell where it came from in the existing pages? We need to do something with it.